The Board of Discipleship organized an opportunity for Zion members to Serve in Love and represent our congregation at the Hills Alive Festival outreach ministry July 15 & 16, 2023. Members and friends put their faith into action as they practiced Knowing Jesus more, Growing in Faith through Christian music and fellowship, and Serving with Love in a variety of festival areas.
Fun Facts about our time at Hills Alive:
• 11 Zion volunteers served for a total of 46 hours!
• 8 volunteers served in the merchandise tent from 4-7 pm Saturday
• 2 volunteers helped in parking
• 2 volunteers helped with general festival setup
• 1 volunteer worked in first aid
• 1 volunteer worked in operations
• 1 volunteer worked at the info booth
• 25 members and friends enjoyed fellowship at the Zion canopy
• Two families from outside the Black Hills area approached our team asking for worship service information. One of those families did attend 8 am service on Sunday! Representing Zion in our community is an evangelism opportunity, and the new t-shirts helped lead other believers through our doors.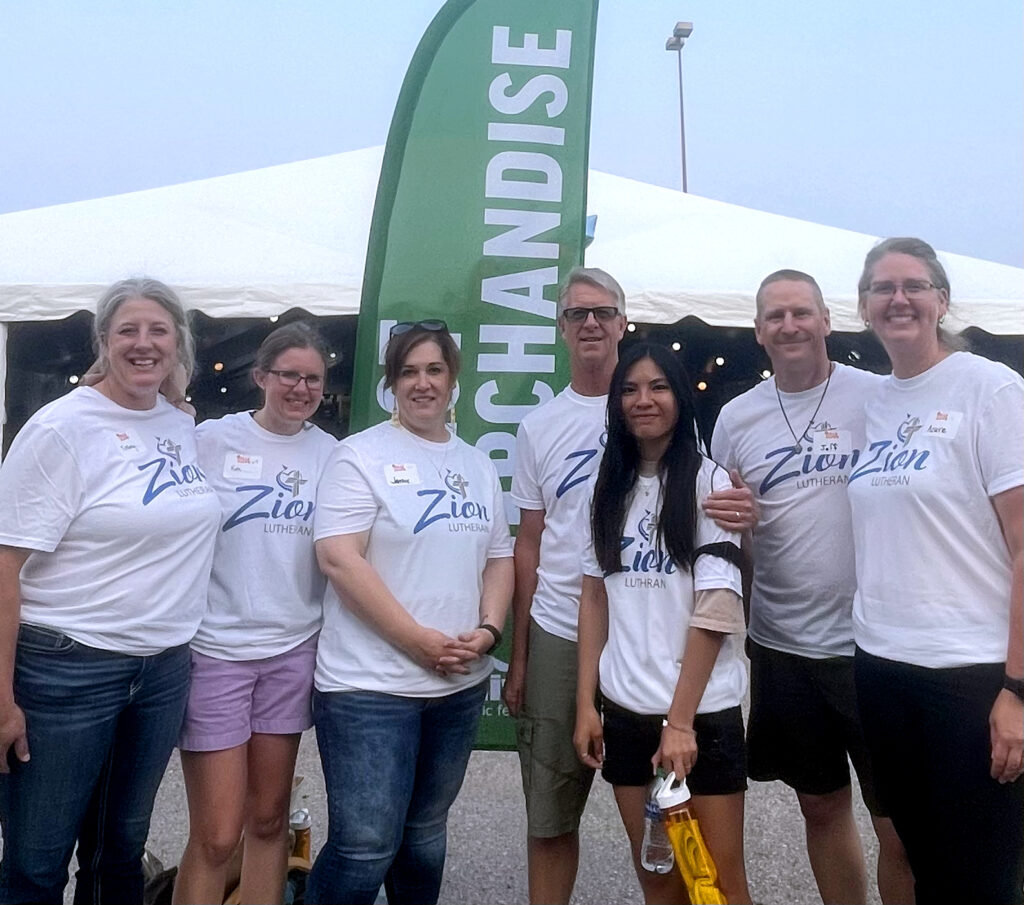 Serving at Hills Alive is a rewarding experience and contributes to the success of a large local outreach effort. Please prayerfully consider Serving with Love next year alongside other Zion members and friends!
What Is Hills Alive? Hills Alive is a free summer music festival held the third weekend in July in Memorial Park, Rapid City featuring many of today's best Christian artists over two days. There is also a kids area with a bouncy village and children's activity tent. Several delicious food vendors are on site as well as Merchandise vendors and non-profit booths. This is a family-friendly event and a huge outreach ministry in the area because it's FREE and it's in the middle of downtown Rapid City. Hills Alive brings in 20,000-25,000 people each day! (kslt.com)